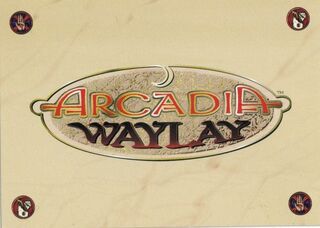 Arcadia
is a Collectible Card Game published by
White Wolf Publishing, Inc.
in August 1996 and designed by
Mark Rein•Hagen
,
Joshua Gabriel Timbrook
,
Mike Tinney
and
Steve Wieck
.
The game is based around the world of the fae, who are changelings that draw on the dreams of humans. Quests, delineated and represented by cards, are completed by cards similarly representing Characters moving from one Terrain card to an adjacent one until the Quest is completed. The game was discontinued after the base set (subtitled The Wyld Hunt) and a single expansion set (King Ironheart's Madness).
Card Types
Edit
Characters, Flaws, Leagues, Merits, Quests and Waylays.
Expansions
Edit
External Links
Edit
Ad blocker interference detected!
Wikia is a free-to-use site that makes money from advertising. We have a modified experience for viewers using ad blockers

Wikia is not accessible if you've made further modifications. Remove the custom ad blocker rule(s) and the page will load as expected.