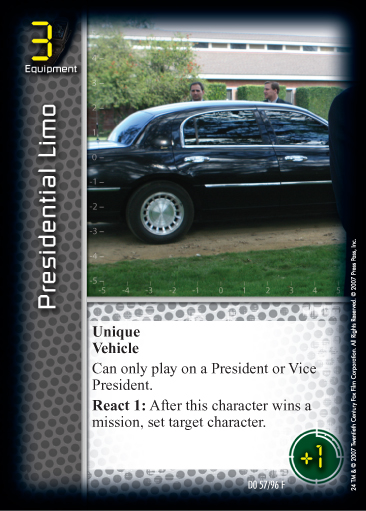 Presidential Limo (D0) (Foil)

'
About
Game/Set:
24 TCG

Expansion:

Publisher:

Country:

USA

Year:

Language:

English
This image needs replacement!
Reason: Non-foil image
Please feel free to upload the correct version of it.
 
Statistics
Presidential Limo
Card Number
57/96
Rarity
Fixed
Printing
Foil
Card Type
Equipment
Cost
3
Skill
[none]
Health
[none]
Traits
Unique
Keywords
Vehicle
Game Text

Can only play on a President or Vice President.

React 1: After this character wins a mission, set target character.

Flavor Text
[none]
War Number
+1
Characters
unknowns
Actors
unknowns
Ad blocker interference detected!
Wikia is a free-to-use site that makes money from advertising. We have a modified experience for viewers using ad blockers

Wikia is not accessible if you've made further modifications. Remove the custom ad blocker rule(s) and the page will load as expected.